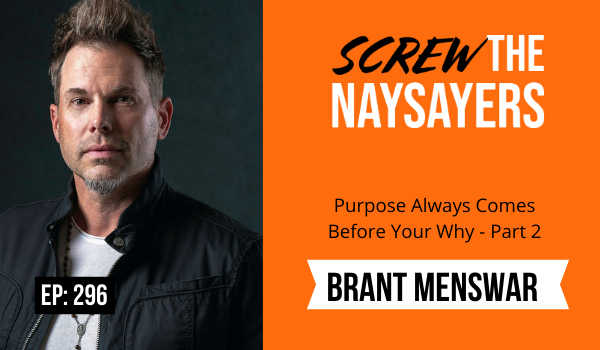 This is part two of my interview with BRANT MENSWAR. Brant has been recognized as one of the country's "Top 10 Motivational Speakers," an author, an award-winning musician, podcast host, and the CEO and founder of Rock Star Impact, a boutique agency that teaches people and organizations how to cultivate values-based leadership.
His newest book, titled Black Sheep, uses the analogy of a black sheep to drive home the importance of defining and honoring your non-negotiable values. The book is a short, funny, read that challenges all of us to do the hard work that is needed to live a life that aligns with the things we value. Amen to that because that is what the Screw the Naysayers movement is all about. 
This is a fun interview with a lot of depth. Enjoy.
Brant can be reached at:
Book Website: findyourblacksheep.com
Website: www.brantmenswar.com
LinkedIn: www.linkedin.com/in/brantmenswar
Instagram: www.instagram.com/brantmenswar
Facebook: www.facebook.com/brantmenswar
Twitter: www.twitter.com/brantmenswar
Podcast: www.thoughtsthatrock.com