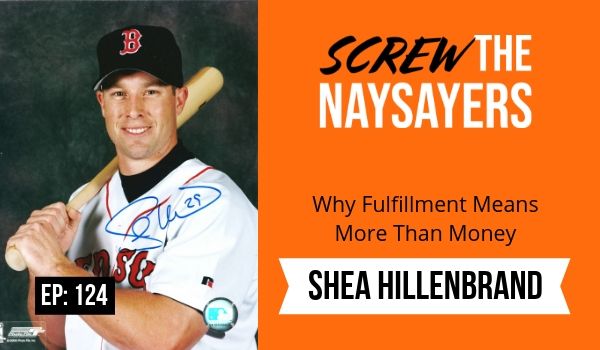 At 31 years of age 2 time American League All-Star Shea Hillenbrand walked away from baseball. Why did Shea decide to quit at the prime of his career leaving behind the potential of  $50 million on the table? Shea goes deep on this in this interview but here's a teaser. After he quit Shea bought a horse farm and opened a zoo.
A few years later Shea found himself divorced, broke, and living in a van. He shares that he made a serious attempt to end his life. Feeling shame the whole time, but still not able to stock. Shea woke the next morning amazed to find that he felt no side effects. In his words, "with the concoction of pills and alcohol I put in my system there should only have been two options. I should be in the hospital or dead."
Shea shares his amazing story of recovery which began with his search to find the horse he had purchased when he made the big leagues. "Coors Light" had moved on when Shea lost his ranch. Remarkably this search led Shea to a woman who became his second wife.
Today Shea is on a mission to share everything he's learned about overcoming the odds. He and his business partner Josh Clark work with high performing men who are stuck, or in his words suffering from WTF. Weary, Tired,  and Frustrated
And of course I couldn't help asking Shea about his time with the Toronto Blue Jays when then Manager John Gibbon's challenged Shea to a fight in the clubhouse in front of the entire team.
Shea didn't hold anything back and his passionate competitive nature is on full display in this interview.
You can reach Shea at:
LinkedIn: https://www.linkedin.com/in/shinternational/
Website: www.dontgetstuckwtf.com and http://sheahillenbrandinternational.com/
Please do not hesitate to reach out to me. I'd love to hear your thoughts, comments, and stories, or just make a connection.
Email-  tim@screwthenaysayers.com 
Facebook- https://www.facebook.com/stnwithtimalison/
Instagram- https://www.instagram.com/screwthenaysayers/
LinkedIn- https://www.linkedin.com/in/tim-alison/
Screw The Naysayers- www.screwthenaysayers.com