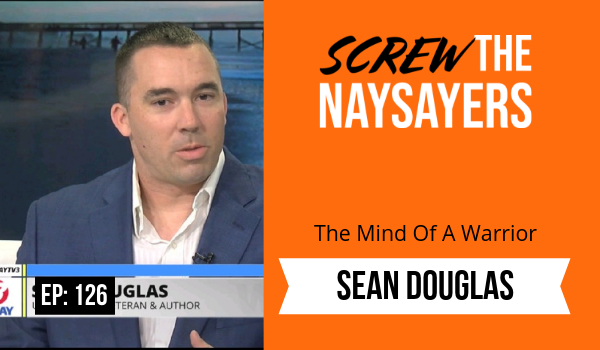 Sean Douglas is a prolific public speaker, TedX speaker, International Radio Show Host, Author, and a Resilience Coach. He is also active in the United States Air Force. It's fair to say that Sean has a lot on the go.
This episode is going to resonate with Veterans, members of the military, as well as their family and friends. When Sean speaks you can feel his intensity and I believe his underlying anger. He has a strong emotional connection with his message, which is based upon his own experiences and friendships. Sean makes no attempt to "sanitize" his story. He openly speaks about his love hate relationship with the military, the impact that alcohol had on him, and how he used to put people down to build himself up.
He also talks about a specific Christmas Eve when he put a gun in his mouth and came ever so close to ending his life.
He shares how his becoming a drill instructor changed his life, and chilled me when he provided statistics about the average life expectancy of a veteran that retires after 20 years service. The number will shock you.
Sean is  fueled by the naysayers that tell him he cannot achieve his goals. He uses their negativity to drive himself forward. People throw around the word impact all the time. Sean Douglas is too busy making an impact to talk about it.
You can reach Sean at:
LinkedIn: https://www.linkedin.com/in/sean-douglas-a0890473/  
Website: https://www.thesuccesscorps.com/
Please do not hesitate to reach out to me. I'd love to hear your thoughts, comments, and stories, or just make a connection.

Email-  tim@screwthenaysayers.com 
Facebook- https://www.facebook.com/stnwithtimalison/
Instagram- https://www.instagram.com/screwthenaysayers/
LinkedIn- https://www.linkedin.com/in/tim-alison/
Screw The Naysayers- www.screwthenaysayers.com

iTunes: https://apple.co/2LkWSPV
Screw the Naysayers Episode Page: https://screwthenaysayers.com/sean-douglas                    
Google Play Music: https://bit.ly/2NBgqMv
Spotify: https://spoti.fi/2MF5T6g
Stitcher: https://bit.ly/2uYCsRC
Podbean: https://screwthenaysayers.podbean.com/e/126-Sean-Douglas/