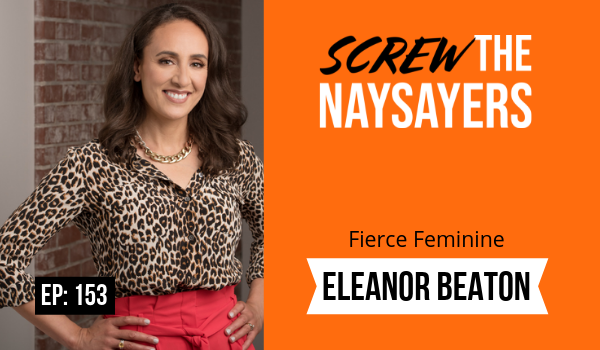 Eleanor Beaton is a women's leadership mentor and founder of Fierce Feminine Leadership, an organization that helps ambitious women develop the confidence, presence, political savvy and influence they need to take their seats at the tables where the big deals and big decisions are made. She is also an award-winning journalist and host of the Fierce Feminine Leadership podcast. And best of all she is a fellow Nova Scotian!
Eleanor has served as Chair of the Visiting Women's Executive Exchange Program at the Yale School of Management. In 2017, she won the prestigious Profiles in Diversity "Women Worth Watching" Award for her work promoting diversity and inclusion. She was also named Canada's Leadership Coach of the Year by the 2017 Corporate Excellence Awards.
Eleanor has been privileged to serve some of the country's most recognized women leaders, including Arlene Dickinson, star of CBC's hit show Dragon's Den and former Canadian First Lady Margaret Trudeau.    
An international keynote speaker, Eleanor has presented at conferences whose rosters include such notables as Hillary Rodham Clinton, Oscar-nominated actress Taraji P. Henson and 23andMe Inc. co-founder Anne Wojcicki.
In this episode Eleanor:
Shares the story behind her business brand name (hint: she has Viking ancestors)

Explains that all along her mission has been to support women, first and foremost to be free and independent

Gives us her thoughts on emotional energy

Explains why more women need to embrace explicit ambition

Uses the phrase "womens tax" and explains what she means

Shares stats that show women owned businesses are less capitalized

Why sales and cash flow are Queen

Tells us that she who can pay the most for customer wins

Points out that a business needs fuel to grow and that fuel is cash

Argues that the idea of work/life balance is unreasonable

And tells us that her goal is not to produce a gentle living
It took some persistence to get onto Eleanor's schedule. It was worth the wait. Enjoy
You can reach Eleanor at:
Website: https://eleanorbeaton.com/
LinkedIn: https://www.linkedin.com/in/eleanorbeaton/   
Please do not hesitate to reach out to me. I'd love to hear your thoughts, comments, and stories, or just make a connection.

Email-  tim@screwthenaysayers.com 
Facebook- https://www.facebook.com/stnwithtimalison/
Instagram- https://www.instagram.com/screwthenaysayers/
LinkedIn- https://www.linkedin.com/in/tim-alison/
Screw The Naysayers- www.screwthenaysayers.com 
iTunes: https://apple.co/2LkWSPV
Screw the Naysayers Episode Page: https://screwthenaysayers.com/podcast                        
Google Play Music: https://bit.ly/2NBgqMv
Spotify: https://spoti.fi/2MF5T6g
Stitcher: https://bit.ly/2uYCsRC
Podbean: https://screwthenaysayers.podbean.com/e/153-Eleanor-Beaton/