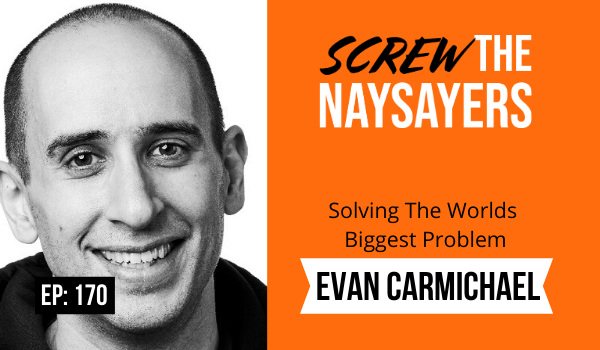 At the age of 19, Evan built then sold a biotech software company. At 22, he was a venture capitalist raising $500k to $15m. He now runs a YouTube channel for entrepreneurs with 1.8M+ subscribers and over 300,000,000 video views. 
Evan wants to solve the world's biggest problem, which he believes is untapped human potential. He's set 2 world records, uses a trampoline & stand-up desk, owns Canada's largest salsa dance studio & has a giant Doritos bag in front of him all day long to remind him that he's stronger than the Doritos. Evan dropped so much gold in this conversation including:
Real advice on dealing with loved ones who are naysayers
Explains his One Word process and why it is so important
Tells us why he is a big believer in going from idea to action
Gets real and admits that his biggest fear is aging rockstar syndrome
Gave me advice on how I should spend the next the next 20-30 years
Says that we should shift our self worth to the effort we put in and not the results
Argues that if you're not making mistakes you hate your life
Tells us why money needs to be in your top five core values
While explaining that you can't chase money
Insists that if you don't love what you do you'll never win
And says if the answer to a question is scary, difficult, or hard, then he has to do it
And proudly states that he is the best Salsa dancer on YouTube!
Evan's enthusiasm for life and the future is infectious. You don't want to miss this episode. Enjoy 
You can reach Evan at:
LinkedIn: https://www.linkedin.com/in/evancarmichael/
YouTube: Evan Carmichael
Website: https://www.evancarmichael.com/ 
Please do not hesitate to reach out to me. I'd love to hear your thoughts, comments, and stories, or just make a connection.
Email-  tim@screwthenaysayers.com
Facebook- https://www.facebook.com/stnwithtimalison/
Instagram- https://www.instagram.com/screwthenaysayers/
LinkedIn- https://www.linkedin.com/in/tim-alison/
Screw The Naysayers- www.screwthenaysayers.com 
iTunes: https://apple.co/2LkWSPV
Screw the Naysayers Episode Page: https://screwthenaysayers.com/podcast                       
Google Play Music: https://bit.ly/2NBgqMv
Spotify: https://spoti.fi/2MF5T6g
Stitcher: https://bit.ly/2uYCsRC
Podbean: https://screwthenaysayers.podbean.com/e/170-Evan-Carmichael   
#screwthenaysayers #Believes #timematters