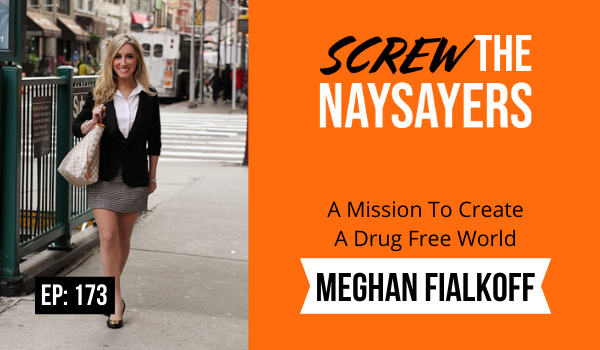 Meghan Fialkoff is an Event Producer, Artist & Humanitarian. In 2006, after graduating from College, Meghan and her father founded the Americas Chapter of the non-profit, Foundation for a Drug Free World. 
Beginning with the mission to reach all of NYC schools with the drug-free, healthy living and dream-making message, the chapter spread like wildfire throughout the entirety of New York State, New Jersey, Connecticut and subsequently into Central America where she co-directs chapters in the Dominican Republic, Haiti, El Salvador, Guatemala, Honduras, and French Guiana. 
Meghan also created and manages the annual Drug Free Heroes Awards Gala and the Drug Free World Ambassador program. In this episode Meghan:
Discusses the impact of family culture on her world views.Her grandparents left Russia just before the holocaust, moved to Cuba where her father was born, and then moved to the U.S.

Says that bigotry is nothing more than hypocrisy

Shares that she founded the America's Chapter of Drug Free World because she was asked to volunteer at an event, not as a result of any family history with drugs

Acknowledged the limitations of a Long Island upbringing and talks about her first trip into a school in the Bronx 

Explains the work they do at Drug Free World and why education is so important

Talks about the importance of celebrity ambassadors who can counter the idea that drug use is normal

Shares how teachers and law enforcement officers can benefit from Drug Free World resources
Meghan is a remarkable human being who is making a big impact on the world. Enjoy..
You can reach Meghan at:
Website (for materials): www.drugfreeworld.org
Americas Website: www.drugfreeworldamericas.org
Email: office@drugfreeworldamericas.org  
Please do not hesitate to reach out to me. I'd love to hear your thoughts, comments, and stories, or just make a connection.

Email-  tim@screwthenaysayers.com 
Facebook- https://www.facebook.com/stnwithtimalison/
Instagram- https://www.instagram.com/screwthenaysayers/
LinkedIn- https://www.linkedin.com/in/tim-alison/
Screw The Naysayers- www.screwthenaysayers.com 
iTunes: https://apple.co/2LkWSPV
Screw the Naysayers Episode Page: https://screwthenaysayers.com/podcast                        
Google Play Music: https://bit.ly/2NBgqMv
Spotify: https://spoti.fi/2MF5T6g
Stitcher: https://bit.ly/2uYCsRC
Podbean: https://screwthenaysayers.podbean.com/e/173-Meghan-Fialkoff/