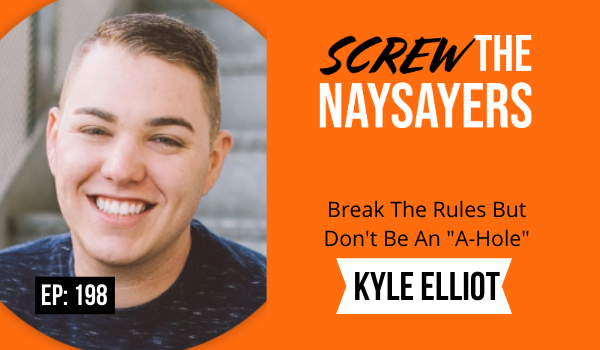 Kyle Elliott is a Career & Life Coach, Resume & LinkedIn Writer, Professional Speaker, Caffeine Addict and a Disneyland Annual Passholder.
As a career coach Kyle started his business on Fiverr, charging a mere 5 bucks to edit resumes and write LinkedIn profiles. His goal was to support his soy, sugar-free vanilla latte addiction through undergrad and grad school.
He never imagined that his college side hustle would turn into a thriving coaching practice. While he helps people across every industry and nearly every continent, Kyle's specialty is the high tech space and Silicon Valley.
He has been featured in Forbes, Fast Company, The Ladders, and many other publications. He's also killing it on LinkedIn where he has more than 60k followers. In this episode Kyle:
Tells us that his childhood dream was to be a sign language teacher

Stresses the importance of finding the why behind the activities you love

Observes that many people get promoted to jobs they don't like

Explains why he advices his clients not to tone themselves down for other people

Says that to standout on LinkedIn you need to break the rules but don't be an "A-hole"

Encourages everyone to find their specific niche

Explains why his social media profiles and About Kyle section on his website include the fact that he is a Disneyland annual pass holder
Kyle has a unique personality. He owns what is unique and different about himself, and is a great role model for others to do the same. This was a fun and informative chat. Enjoy.
You can reach Kyle at:
Website: https://caffeinatedkyle.com/
Please do not hesitate to reach out to me. I'd love to hear your thoughts, comments, and stories, or just make a connection.
Facebook- https://www.facebook.com/stnwithtimalison/ 
Instagram- https://www.instagram.com/screwthenaysayers/ 
LinkedIn- https://www.linkedin.com/in/tim-alison/ 
Screw The Naysayers- www.screwthenaysayers.com 
Full Episode
iTunes: https://apple.co/2LkWSPV 
Screw the Naysayers Episode Page: https://screwthenaysayers.com/podcast                         
Google Play Music: https://bit.ly/2NBgqMv 
Spotify: https://spoti.fi/2MF5T6g 
Stitcher: https://bit.ly/2uYCsRC 
Podbean: https://screwthenaysayers.podbean.com/e/198-Kyle-Elliot/