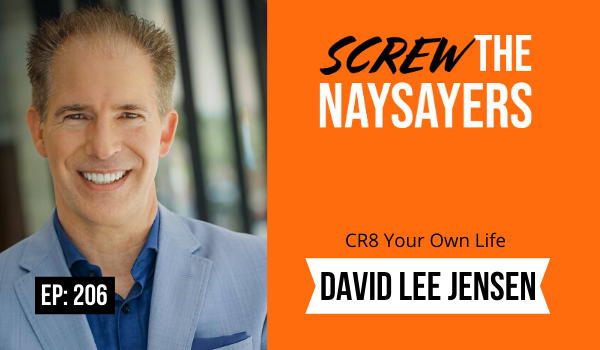 David Lee Jensen is a 2 time Bestselling Author, Fortune 50 Speaker, Coach, Online Marketer and a Hiring Expert. These days David is on a mission to teach others how they can leap into entrepreneurship and land safely.
David's path to entrepreneurship was anything but straight. He grew up in an abusive household, began his career as a literary agent, was a headhunter, moved into small business consulting, and then as President of a payment processing company grew revenues to 2.5 billion dollars. Ten years of seeing bonus checks going to the owners when he has a decent six-figure salary but no ownership convinced him it was time to try entrepreneurship. He hasn't looked back. In this episode David:
Spoke about growing up with an abusive father and tells us about the 911 call that changed his life

Talked about the things he learned over a 20 year career working for others

Went deep on the process he used to transition to entrepreneurship

Explains why he is so passionate about helping others transition to self employment

Tells us  that planning for his upcoming CR8 Your Future Conference in Tempe Arizona began years ago when he walked onto a stage at the Tempe Center for the Arts

Shared what participants can expect at the CR8 Your Future event on March 27th and 28th

Explains why he believes retirement is death

Reveals the two words he wants on his gravestone
David Lee Jensen is a remarkable, humble human being, who's passion to serve others is as honest as it is obvious. Enjoy. 
You can reach David at:
Website: https://www.cr8conference.com/
LinkedIn: https://www.linkedin.com/in/davidleejensen/
Please do not hesitate to reach out to me. I'd love to hear your thoughts, comments, and stories, or just make a connection.
Facebook- https://www.facebook.com/stnwithtimalison/
Instagram- https://www.instagram.com/screwthenaysayers/
LinkedIn- https://www.linkedin.com/in/tim-alison/
Screw The Naysayers- www.screwthenaysayers.com 
Full Episode
iTunes: https://apple.co/2LkWSPV
Screw the Naysayers Episode Page: https://screwthenaysayers.com/podcast
Google Play Music: https://bit.ly/2NBgqMv
Spotify: https://spoti.fi/2MF5T6g
Stitcher: https://bit.ly/2uYCsRC
Podbean: https://screwthenaysayers.podbean.com/e/206-David-Lee-Jensen/