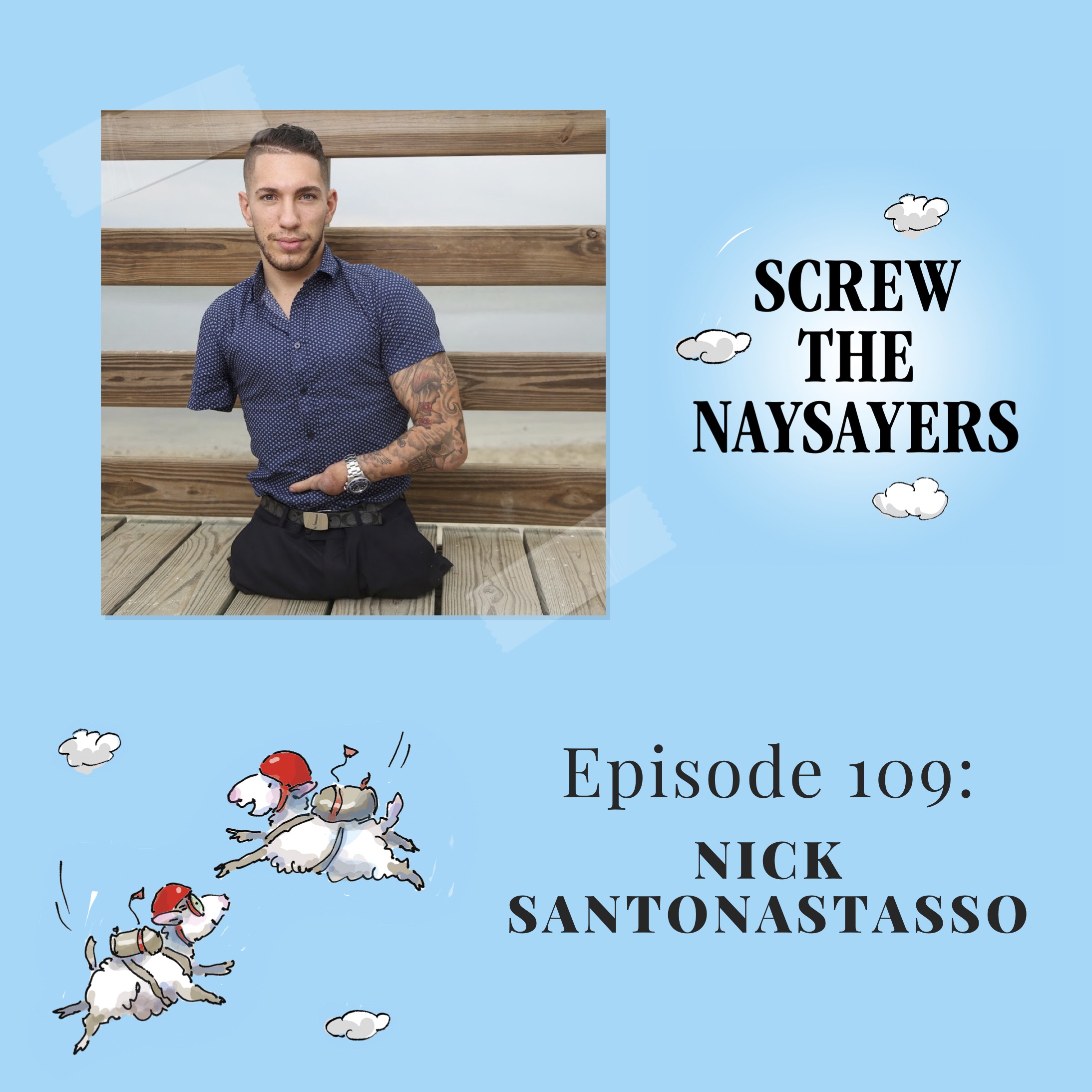 Nick Santonastasso is a medical miracle. Not only is he one of four people alive with the rare genetic condition, Hanhart Syndrome, this inspirational keynote speaker is an internationally known bodybuilder and fitness model – despite missing both his legs and one arm since birth.
In today's episode Nic shares his amazing story, showing people that anyone can thrive if they have the determination and willpower to go after what they want.

When Nick was born, the doctors handed his parents a long list of things that he would never be able to do." Nick's parents politely thanked them and threw the list out. They raised Nick the same way they had raised his three able-bodied older siblings and instilled in him never to let the world tell him what he could or couldn't do.

Nick tried out various sports before finding a passion for wrestling. As a varsity wrestler in his high school, he may not have been the district champion, but he did pack gyms and earn the respect of thousands of total strangers. At the same time, he rose to "Vine" stardom, with a series of zombie prank videos.
Nick has shared his life and thoughts on acceptance, positivity, and pushing your limits with millions, gaining the admiration of A-List Celebrities, Dwayne "The Rock" Johnson, Tony Robbins, and Gary Vaynerchuk. He also partnered with Fox International to promote The Walking Dead via an epic prank on one of the show's most popular actors, Norman Reedus.
This was easily one of the highest energy interviews I've had on this show. Nic has earned the right to be heard, and his message will inspire and challenge you to expect more from life.
You can reach Nic at:
Speaking:  https://booknicksanto.com/
Youtube: https://www.youtube.com/user/NickSanto534
Please do not hesitate to reach out to me. I'd love to hear your thoughts, comments, and stories, or just make a connection.
Email-  tim@screwthenaysayers.com
Facebook- https://www.facebook.com/stnwithtimalison/
Instagram- https://www.instagram.com/screwthenaysayers/
LinkedIn- https://www.linkedin.com/in/tim-alison/
Screw The Naysayers- www.screwthenaysayers.com

Full episode at:
iTunes: https://apple.co/2LkWSPV
Screw the Naysayers Episode Page: https://screwthenaysayers.com/Nick-Santonastasso                
Google Play Music: https://bit.ly/2NBgqMv
Spotify: https://spoti.fi/2MF5T6g
Stitcher: https://bit.ly/2uYCsRC
Podbean: https://screwthenaysayers.podbean.com/e/109-Nick-Santonastasso/