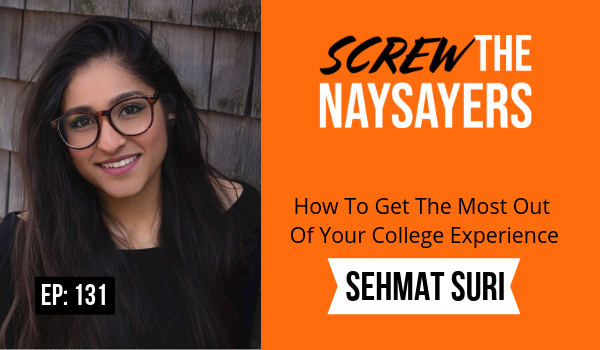 Sehmat Suri has spoken on stages in Dubai, London (U.K.), Halifax, Toronto, and Vancouver. She helped launch and scale Square Roots, an innovative social enterprise that is taking on the challenge of food waste and food insecurity. She took on the challenge of finding a partner to turn carrots destined for the landfill into a craft beer and even a beer for dogs. People laughed. The beer sold out in record time.
You can also find Sehmat working part-time as a model where she combines her passion for fashion with her very long and beautiful hair (her instagram handle is semiwiththegoodhair so I guess I can get away with that comment).
What makes this even more impressive is Sehamt achieved all this while completing a Double Major in Marketing and Psychology at Saint Mary's University in Halifax. She even managed to survive a co-op work term working remotely for me. Yes folks, Sehamt was employee number one for Screw the Naysayers.
Sehmat's journey to Canada is inspiring. Originally from Calcutta India, Sehmat chose Canada to pursue her University education.
In this episode Sehmat talks about:
the work she did with Square Roots, and other social enterprises as part of the Enactus chapter at her College. Enactus is a global organization working with college students in 38 countries around the world.

The challenges she faced coming to a new country

Why she decided to make Canada her permanent home

Her thoughts on finding your purpose

What it was like working for a crazy boss like me

And lots more
If you haven't guessed, I'm a huge fan of Sehmat. She and so many other young people I've met through my podcast give me great hope for the future. Enjoy…
You can reach Sehmat at:
Instagram: https://www.instagram.com/semiwiththegoodhair/
LinkedIn: https://www.linkedin.com/in/sehmatsuri/
Please do not hesitate to reach out to me. I'd love to hear your thoughts, comments, and stories, or just make a connection.

Email-  tim@screwthenaysayers.com 
Facebook- https://www.facebook.com/stnwithtimalison/
Instagram- https://www.instagram.com/screwthenaysayers/
LinkedIn- https://www.linkedin.com/in/tim-alison/
Screw The Naysayers- www.screwthenaysayers.com
iTunes: https://apple.co/2LkWSPV
Screw the Naysayers Episode Page: https://screwthenaysayers.com/Sehmat-Suri                       
Google Play Music: https://bit.ly/2NBgqMv
Spotify: https://spoti.fi/2MF5T6g
Stitcher: https://bit.ly/2uYCsRC
Podbean: https://screwthenaysayers.podbean.com/e/131-Sehmat-Suri/