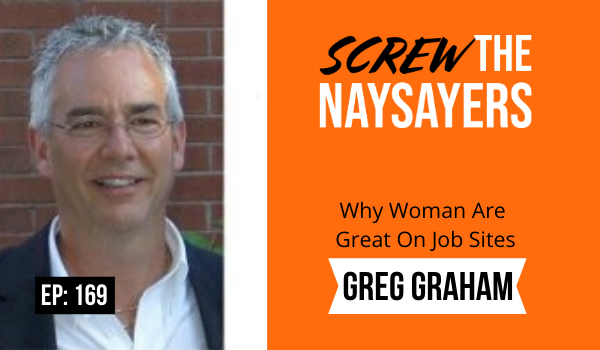 Greg Graham is the COO of the Cardel Group of Companies and President, Cardel Homes Ottawa. Cardel is a land development and residential home builder with operations in Ottawa, Calgary, Denver, and Tampa.
I connected with Greg when I learned that Cardel Homes had become the National Sponsor for the Women of Inspiration Awards, founded by Screw the Naysayer guest alumni member Monica Kretschmer. Now in its fifth year the Women of Inspiration Awards has recognized the achievements of more than 600 women and men in 23 Diverse Award Categories. I'm proud to say that I received a WOI award in October of 2019 in recognition of the role this podcast has played in shining the spotlight on strong women leaders and gender inequality issues.
In this episode Greg:
Explains why Cardel decided to become a national sponsor

Stresses the role employers must play in encouraging employees to embrace an entrepreneurial mindset

Talks about the importance of leadership communicating the "why" to everyone in the organization

Suggests that all of the government support structures we have in place has had the unintended consequence of creating complacency and killing innovation/personal growth

Speaks out against millennial bashing and reminds us boomers that we created them

Shares his experiences with the value add that women bring to job sites

Stresses that the trades offer wonderful opportunities for women and men
This was an insightful and informative discussion. Enjoy.
You can reach Greg at:
LinkedIn: https://www.linkedin.com/in/greg-graham-pro-dir-501946/ 
Please do not hesitate to reach out to me. I'd love to hear your thoughts, comments, and stories, or just make a connection.

Email-  tim@screwthenaysayers.com 
Facebook- https://www.facebook.com/stnwithtimalison/
Instagram- https://www.instagram.com/screwthenaysayers/
LinkedIn- https://www.linkedin.com/in/tim-alison/
Screw The Naysayers- www.screwthenaysayers.com 
iTunes: https://apple.co/2LkWSPV
Screw the Naysayers Episode Page: https://screwthenaysayers.com/podcast                        
Google Play Music: https://bit.ly/2NBgqMv
Spotify: https://spoti.fi/2MF5T6g
Stitcher: https://bit.ly/2uYCsRC
Podbean: https://screwthenaysayers.podbean.com/e/169-Greg-Graham/