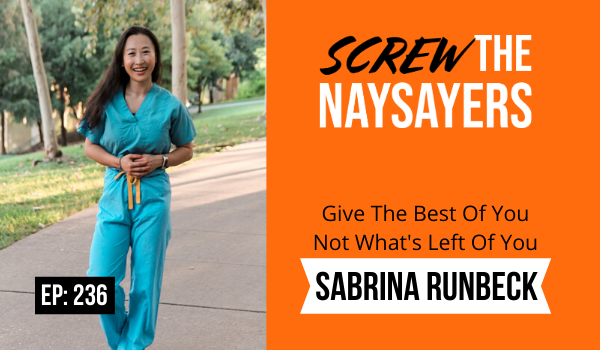 Sabrina Runbeck is a Cardiothoracic Surgery Physician Assistant and a Life Performance Consultant. After working 80+ hours a week in healthcare, Sabrina noticed that there were people in the healthcare arena who love their work and yet were always able to always make it to their workout class or go to brunch or happy hour with family and friends. This while Sabrina and the rest of the professionals were grinding away. The issue became more important to her when she encountered a patient, a man with a wife and two young children,  who was facing major health challenges. Realizing that we don't get time back, Sabrina set out to in her words, crack the code of doing important work while still having time for self and family.
Sabrina still works in medicine but has found a new passion in helping professionals with high-demanding careers to live the lifestyle they deserve, so they can enjoy their success. She believes everyone has the inner ability to gain more control and find life's satisfactions, and is on a mission to help them. In this episode Sabrina:
Reflected on the friction that can be created when we make transformational life changes

Talks about her focus on checking off all the boxes, starting with her degree

Says that she still loves the energy working in Cardiothoracic medicine

But has also found a passion for helping other professionals 

Stressed the importance of always  learning

Explains why she is always looking for opportunities to shorten her learning curve

Talks about the 3 different stages of burnout

Reminds us that our ability is never fixed

And shares with us a 5 step process anyone can use to fall in love with their job
Sabrina is bright, energetic and a rising star. Enjoy...
You can reach Sabrina at:
LinkedIn: https://www.linkedin.com/in/sabrinarunbeck/ 
Website: www.sabrinarunbeck.com 
Please do not hesitate to reach out to me. I'd love to hear your thoughts, comments, and stories, or just make a connection.

Email-  tim@screwthenaysayers.com 
Facebook- https://www.facebook.com/stnwithtimalison/
Instagram- https://www.instagram.com/screwthenaysayers/
LinkedIn- https://www.linkedin.com/in/tim-alison/
Screw The Naysayers- www.screwthenaysayers.com 
iTunes: https://apple.co/2LkWSPV
Screw the Naysayers Episode Page: https://screwthenaysayers.com/podcast                        
Google Play Music: https://bit.ly/2NBgqMv
Spotify: https://spoti.fi/2MF5T6g
Stitcher: https://bit.ly/2uYCsRC
Podbean: https://screwthenaysayers.podbean.com/e/172-Sabrina-Runbeck/