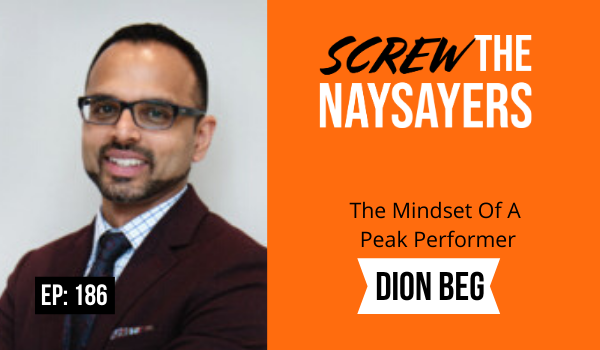 Dion Beg is the founder of Flow Coaching and Consulting. He is a sought-after speaker and has given hundreds of presentations to various audiences including Harvard University
Dion also runs a successful financial company. There are 20,000 mortgage professionals in Canada and Dion has been Ranked in the TOP 75 Brokers in the nation for several years. That's the top ½ of 1% so he must be doing something right.
In this episode Dion:
Speaks about the dangers of imposter syndrome

Reveals that he uses an old school business model which is based upon creating relationships

Says that we should find what comes naturally to us and go with it or in his words lean into it

Tells us that he moved to Canada in 2008 in the middle of the financial crisis. His once solid investments in Australia took a big hit leaving him with just $10,000 to start his new life

Was smart enough to see the dangers of questioning his own judgement 

Shared research findings that explain why so many of us struggle with deferred gratification

Recalls the moment when his wife, who was pregnant with their first child,  lost vision in one of her eyes  

Explains how they dealt with her MS diagnosis, including making radical lifestyle changes

Says that he feels obligated to be the best potential version of who he could be

Talks about the importance of being a role model for his children
Dion is high energy, thoughtful, and willingly shares life and business lessons. Enjoy
You can reach Dion at:
Mortgage business - https://www.mortgagesbydion.com/ 
Speaking & Coaching Business -  https://www.dionbeg.com/ 
Please do not hesitate to reach out to me. I'd love to hear your thoughts, comments, and stories, or just make a connection.
Facebook- https://www.facebook.com/stnwithtimalison/ 
Instagram- https://www.instagram.com/screwthenaysayers/
LinkedIn- https://www.linkedin.com/in/tim-alison/
Screw The Naysayers- www.screwthenaysayers.com 
iTunes: https://apple.co/2LkWSPV
Screw the Naysayers Episode Page: https://screwthenaysayers.com/podcast                        
Google Play Music: https://bit.ly/2NBgqMv
Spotify: https://spoti.fi/2MF5T6g
Stitcher: https://bit.ly/2uYCsRC
Podbean: https://screwthenaysayers.podbean.com/e/186-Dion-Beg/