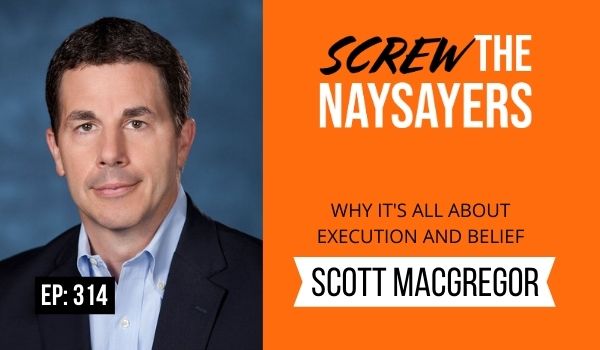 Scott MacGregor is the founder & CEO of SomethingNew LLC, one of the fastest-growing talent strategy companies in the country. SomethingNew is a record five-time recipient of the American Business Award for Innovation and winner of Best of Staffing. Scott's belief that good companies do good things led him to establish SomethingGood™, which is the social mission component of SomethingNew. His first two books, Standing O!, Standing O! Encore and now Standing O! Salute are part of that mission as all of the proceeds go to charity.
Prior to starting Something New Scott was the youngest National Account Manager in the history of Fortune 500 Company, Pitney Bowes, and at age 29 joined a startup as Chief Revenue Officer where he served for almost 17 years. Cool things to know about Scott: 
He grew up poor in an affluent town

Scott sat on his own business plan for 10 years before making the leap into entrepreneurship. He credits his wife for giving him the support he needed to make the decision

The idea for Something New came from Scott's belief that recruiting was broken on both sides

And unlike many entrepreneurs Scott is only married to his wife and nothing else
Scott's the real deal. He's articulate, generous, a welcome addition to the Screw the Naysayers family of guests. Our discussion is full of lessons for people in leadership positions and especially current and wannabe entrepreneurs.  
Scott can be reached at:
LinkedIn: https://www.linkedin.com/in/macgregorscott/
Website: https://trysomethingnewnow.com/ 
Please do not hesitate to reach out to me. I'd love to hear your thoughts, comments, and stories, or just make a connection.
Facebook- https://www.facebook.com/stnwithtimalison/  
Instagram- https://www.instagram.com/screwthenaysayers/  
LinkedIn- https://www.linkedin.com/in/tim-alison/  
Screw The Naysayers- www.screwthenaysayers.com